Online
It's easy to manage your or your family's travel passes online and check at any time what travel passes you have and when they are valid until.
Create an account or log in at delijn.be/mijnaccount

Go to 'Products' > 'Travel passes' and link your MOBIB card(s)
How do I link my MOBIB card to my account?
In the app
Log in to the app. Make sure you have the latest version.
Go to Products > Travel passes and click on "Add"
Hold your MOBIB card against the back of your smartphone or enter the last five digits of your MOBIB card and your date of birth.
Only your physical MOBIB card is valid as a ticket on the bus or tram. To enable us to provide you with relevant travel information, it is important that you always scan your ticket correctly.
On buses or trams
Scan your MOBIB card on the bus or tram. Only your current and future travel passes are displayed.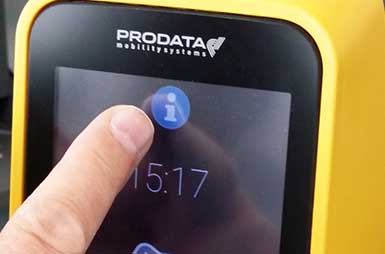 Press the blue Info button on the MOBIB scanner.
Wave your MOBIB card in front of the blue circle on the MOBIB scanner.
The valid travel pass with mention of the expiry date appears on the screen.
Check your travel pass details in the My MoBIB app
If you have an Android NFC device, as soon as you have scanned your MOBIB card on one of our vehicles, you can check your travel pass details in the My MoBIB app.
Is your travel pass not on your MOBIB card? Let us know so we can check this.
How soon will my travel pass be on my MOBIB card after payment?
Any questions about this subject?
Fill in this form.