You can find real-time information about your bus or tram on the De Lijn website or in the app. The information is updated in the app every 15 seconds and on every arrival at and departure from a stop, so that you always know when the bus or tram will pass through your stop.
Real-time information on the website
Go to the route planner on the website of De Lijn.
Plan your route.
View the different stops with their real-time info.
Real-time information in the De Lijn app
Click on the 'Search' tab at the top of the app.
Enter your stop, address or municipality.

Select your stop from the results list.

View the different lines with their real-time information.

Your screen will refresh automatically every 15 seconds. Alternatively, just click on the refresh icon.
Since version 5.3.0 of the app, our route planner also works with real-time information when you plan your journey.
How can you see if there is real-time information for your bus or tram?
Is there a real-time icon after the number of minutes until your bus passes through the stop? That means we are showing you real-time information about your bus or tram.
Is there no real-time icon? Then we are unable to monitor your bus live and are only showing the planned timetable.
If the time is crossed out and the words 'Not running' are shown, your bus or tram is not running.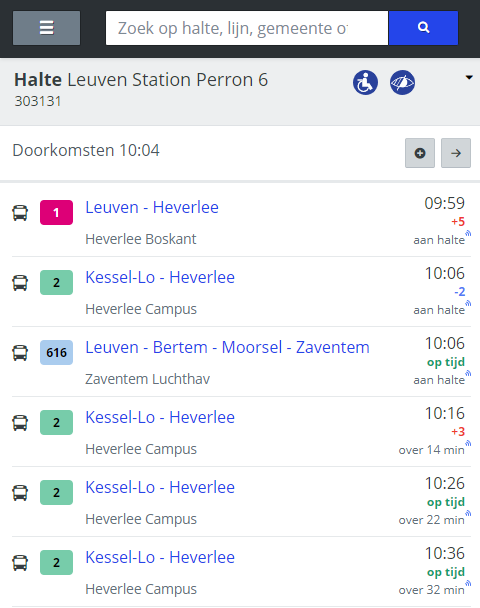 Any questions about this subject?
 Fill in this form.