You can pay contactlessly for up to 5 travellers as follows:
Hold the same (contactless) means of payment in front of the same terminal within two minutes.*
Each time you do this, the number of travellers will appear on the screen: e.g. 'number of travellers: 2', 'number of travellers: 3', etc.

If you transfer to another vehicle: repeat this process for each traveller in your group.
What if you do this too many times (i.e. six times)? You'll see a red screen with the message 'Number of allowed travellers is reached'.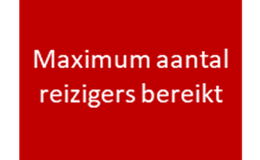 If you want to pay contactless for more than 5 travellers, use a second or third means of payment.
Besides a contactless debit card, the following payment media are also possible:
a virtual version of the debit or credit card in Apple Payor Google Pay and/or a wearable
a contactless credit or prepaid card
If you have a joint bank account, the two account holders can each use their own means of payment, giving rise to separate charges.
* If you present the same means of payment at another terminal within the hour, this won't be treated as paying for another traveller: we'll register it as a transfer.
Any questions about this subject?
Fill in this form.